Beach Ballroom
Whether you are organising a small team meeting or a large conference, the Beach Ballroom is the perfect venue.
Conveniently located minutes from Aberdeen city centre, the venue can deliver the perfect customised package for you and your business. It is the place to hold high powered meetings, host that impressive networking reception or deliver your speech to the board.
In a building with so much history you can't help but inspire creativity!
Many sizes of groups catered for
Free parking available in the area
Great service
Fantastic beach location near Aberdeen city centre
Unique and inspiring venue
The on-site dedicated banqueting team can provide any catering to suite your event.
Conference Rooms
Boardroom
Luxury room furnished to a high standard
Separate area for refreshments
Street level

Length 8.2m x Width 4.9m x Height 2.8m
Min Capacity: 10
Max Capacity: 12
Set up styles: Boardroom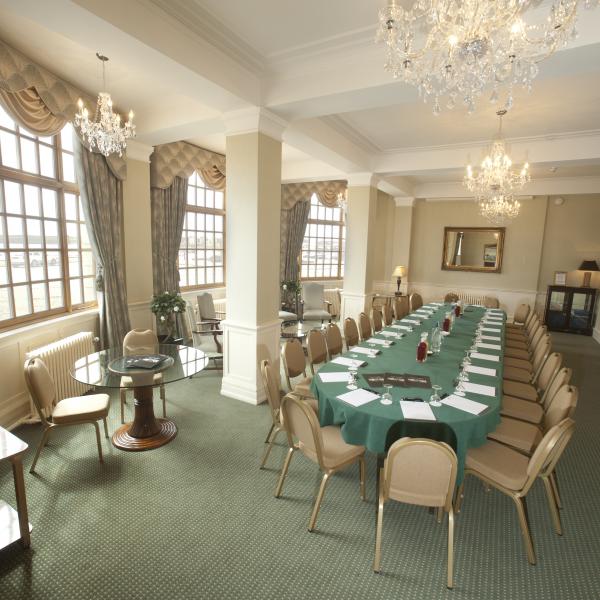 Promenade Suite
20-50 people
Separate area for refreshments
Bright room overlooking the Beach Promenade
Street level

Length 14.0m x Width 6.0m x Height 3.2m
Min Capacity: 20
Max Capacity: 50
Set up styles: Theatre,Boardroom,Classroom,Reception
Northern Lights
50–100 people
Easy access with two entrances
Bright room overlooking the Beach Promenade
Street level

Length 20.3m x Width 11.3m x Height 3.2m
Min Capacity: 50
Max Capacity: 100
Set up styles: Theatre,Boardroom,Classroom,Banquet,Reception,Cabaret
Star Ballroom
60–150 people
Separate break-out room
Self-contained with own entrance
First floor (Please note this room currently has no lift and therefore is not suitable for those with limited mobility)


Length 23.1m x Width 9.8m x Height 2.5m
Min Capacity: 60
Max Capacity: 150
Set up styles: Theatre,Classroom,Banquet,Dinner Dance,Reception,Cabaret
Main Ballroom
Comfortably accommodates 200-1000 people
Ideal for large events
Stunning Art Deco room
Lower level  

Length 28m x Width 29m x Height 9.98m
Min Capacity: 200
Max Capacity: 1000
Set up styles: Theatre,Classroom,Banquet,Dinner Dance,Reception,Cabaret