Pittodrie Events
Aberdeen Football Club boasts an array of versatile suites and executive boxes within a truly unique venue in the heart of Aberdeen. Their dedicated and experienced team will ensure your events are distinctive and memorable, tailoring packages specific to your requirements to ensure your day is a guaranteed success. Everyone from their knowledgeable sales team, to their skilled chefs and event managers will be on hand to advise you along the way and provide you with a personalised experience when planning your event. Pittodrie Events also work closely with preferred suppliers to ensure that special touches are readily available should you wish to further enhance your event.
No matter what your event size is, Pittodrie Stadium can provide you with a unique and exciting location for you and your guests. Their dedicated team will work closely with you to ensure your requirements are catered for and your expectations are exceeded, ensuring a truly memorable and successful event every time.
Conference Rooms
Aberdeen Asset Management Suite
Aberdeen Asset Management Suite is Pittodrie's premier hospitality space, accommodating up t 400 guests, whether it's a private dinner, town house meeting, indoor team building, or a large recruitment event, the expansive open plan area is flexible to suit the size and style of your event, making it the perfect stage for your event.
Length 60 metres x Width 9 Metres x Height 3 metres
Max Capacity: 400
Set up styles: Theatre,Boardroom,Classroom,Banquet,Dinner Dance,Reception,Cabaret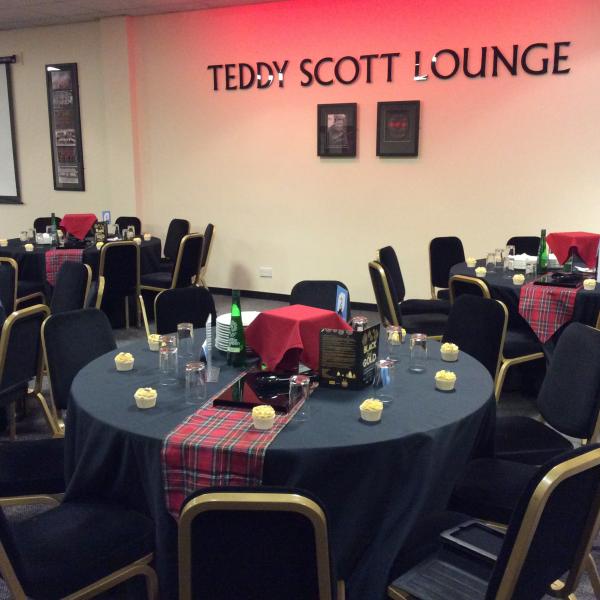 Teddy Scott Lounge
The Teddy Scott Lounge is adorned with football memorabilia the great man collected during his years at Pittodrie. Traditionally, this suite is used for meetings of up to 100 people, giving clients additional space for break outs and exhibition
Length 24 metres x Width 9.2 Metres x Height 3 Metres
Max Capacity: 120
Set up styles: Theatre,Boardroom,Classroom,Banquet,Dinner Dance,Reception,Cabaret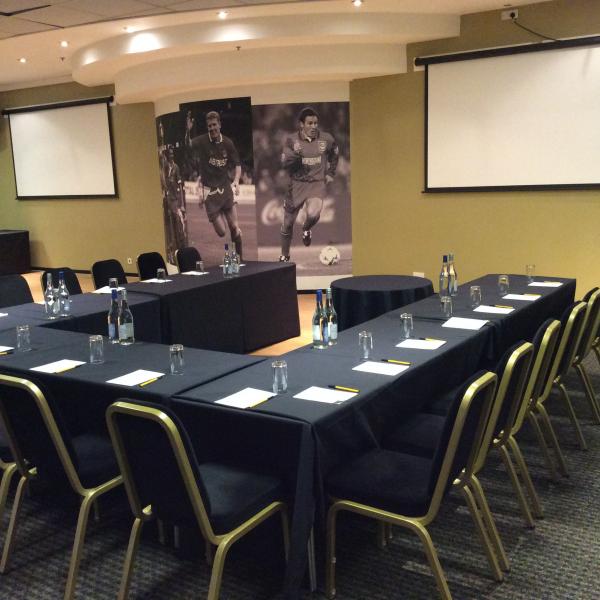 Legends Lounge
With its black and white murals, the Legends Lounge celebrates Pittodrie greats through the years and provides the perfect backdrop for a private party or drinks reception. Used in conjunction with Teddy Scott, this room is also the perfect area for additional break out space and refreshments, ensuring your guests enjoy a relaxing change of scenery
Length 24 metres x Width 9.2 metres x Height 3 metres
Max Capacity: 100
Set up styles: Theatre,Boardroom,Classroom,Banquet,Dinner Dance,Reception,Cabaret
Sir Alex Ferguson Lounge
Length 17.15 metres x Width 5.78 metres x Height 2.4 metres
Max Capacity: 60
Set up styles: Theatre,Boardroom,Classroom,Banquet,Reception,Cabaret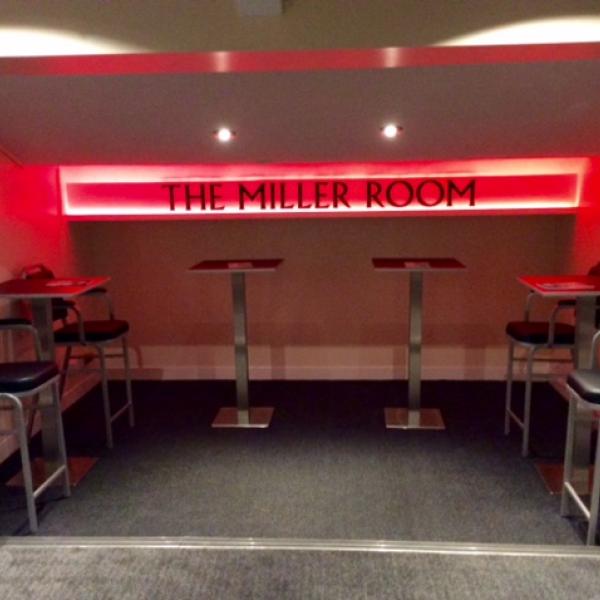 The Miller Room
Length 8.7 metres x Width 6.4 metres x Height 2.4 metres
Max Capacity: 16
Set up styles: Theatre,Boardroom,Banquet
Boardroom
Our prestigious boardroom can be utilised for exclusive dinners, with our executive chefs on hand to develop a sumptuous banquet using seasonal and local produce, again tailored to your personal tastes
Length 8.8 metres x Width 5.6 metres x Height 2.4 metres
Max Capacity: 50
Set up styles: Theatre,Boardroom,Classroom,Banquet,Reception
Gothenburg Lounge
Length 15 metres x Width 4 metres x Height 2.4 metres
Max Capacity: 50
Set up styles: Theatre,Boardroom,Classroom,Banquet,Reception,Cabaret
Black and Gold Lounge
Length 9.29 metres x Width 3.42 metres x Height 2.4 metres
Max Capacity: 15
Set up styles: Theatre,Boardroom,Classroom,Banquet,Reception